postnatal | baby classes - overview
Yoga, pilates, cardio blast and bootcamp classes for mamas who are ready to restore their core safely + get back into their workout routine; a special postnatal yoga class designed to nourish + ease all the discomforts + body challenges that come from childbirth + carrying your baby; and finally we have our baby yoga classes (yoga babies | baby + me yoga) that combine yoga + play to strengthen your body and the bond between the parent + baby.
mama + baby bootcamp
wed. 7am + thurs. 7am
Maximize that early morning wake-up call (or, rather, cry) with an intense calorie-burning + muscle-strengthening "power hour" workout. This pre/postnatal bootcamp-inspired circuit training class focuses on building/restoring your physical strength + endurance. Your pre-walking babies are welcome to just "observe" the class or you may choose to increase the intensity of your workout by wearing them in a structured carrier.
mama + baby cardio blast
tues. 10:30am
Come enjoy a bonding experience with your baby while you move together through dance, cardio, and strength training. Babies love to move with you, so we will incorporate wearing your baby, dancing with your baby, and gaining muscle tone and cardio in this fun, music led class!!
mama + baby mat pilates
mon. 7am + sat. 7am
This class is designed to help you recover, tone and strengthen your body post birth. This full body workout focuses on strengthening the abdominals, the pelvic floor muscles, and the back. Pilates not only helps recover from delivery, but also helps you increase overall fitness. Mamas are welcome to bring their pre-walking babies to this class but this is certainly not a requirement.
mama flow (vinyasa yoga)
mon. 10:15am + wed. 2:30pm
A strong vinyasa flow class for postnatal mamas ready to get a good sweat. Vinyasa classes use the linking together of movement and breath to create flow sequences, utilizing poses from the ashtanga series. Every class will be different but always fun, while cultivating balance, flexibility, strength, and endurance. Your pre-walking babies are welcome to join you but they will not be actively incorporated into the class.
baby + me yoga
thurs. 10:45am
During class you will be guided through asana to strengthen, tone and nurture your temple - your postnatal body, mind and soul. This is an opportunity to not only connect with your baby but with other mama's who are navigating their way through motherhood. Babies will be choreographed in as needed and you may find yourself dancing and singing (possibly while wearing your little one), other times we may incorporate baby massage or sign language and always hold space for breath and meditation. Motherhood brings transformation that is unlike no other and this class supports you, honors you and aims to create love and light along the way. Please bring your yoga mat (though mats are also available for rent or purchase at the studio).
yoga babies
mon. 4pm + tues. 8:30am
This unique, interactive class combines yoga and play to provide exercise while strengthening the bond between you and your baby. Flowing sun salutations, strengthening postures, and calming restorative time in a playful but safe environment for babies. Learn baby yoga exercises to strengthen growing muscles, aid in digestion, facilitate better sleeping patterns, and promote overall development. Songs, stories, and dance may be incorporated. You are welcome to wear your baby.
family yoga
sun. 11am
Family yoga is a fun, playful, and meditative way to move together mindfully through flow sequences, as well as partner/group poses. Developmentally appropriate yoga postures (with modifications as necessary), animated breathing exercises and soothing relaxation techniques awaken the innerchild of all age participants. Laughter and love fill each class and is sure to inspire the entire family's relationship. Adults and children of all ages and abilities welcome! Please bring a mat for each family member 4 years and up and REGISTER SEPARATELY FOR EACH MEMBER with their own mat.
movin' groovin' baby music
tues. 5:15pm
This class includes developmentally appropriate songs, rhymes, creative movement, percussion instrument play, and exposure to many different styles of music and storytelling. This is a joyful first experience in music making. We encourage parents and caregivers to join in on the fun and sing/play along! Early exposure to music has a long list of benefits including early communication skills, emotional bonding, motor skills, self-expression, memory skills and so much more. Natalie has over a decade of experience teaching music to kids and adults of all ages. Come on out to sing and groove with us!
joyeux bébé musique (french music)
wed. 5pm
Here, Natalie invokes her childhood in France and adapts her movin' groovin' music class to expose babies and children to the French language through playful song and dance.
baila baila (spanish music)
thurs. 2:30pm
Baila Baila™ is a wonderful musical creation that exposes babies to the Spanish language and teaches toddlers Spanish skills through a fun, engaging class. The diverse and contemporary rhythms make the learning easy and fun.
happy baby jam session
fri. 1:30pm
Parent + child jam sessions are offered for young musicians who aren't ready for formal lessons yet. These 45-minute classes are designed to expose your child to music through fun hands-on interaction with real instruments, including drums, guitars, microphones, violins, and more.
play music
sat. 3:30pm
Kids Play Music© is an interactive class program for your bright-eyed little humans. Each class includes interactive music play to engage their early language and social skills, motor coordination, and developmental milestones. Each Play Music class includes guitar, drums, shaker instruments, dancing, story time, sing-a-longs, and signs to communicate manners. Play Music classes are inclusive for children with and without special needs.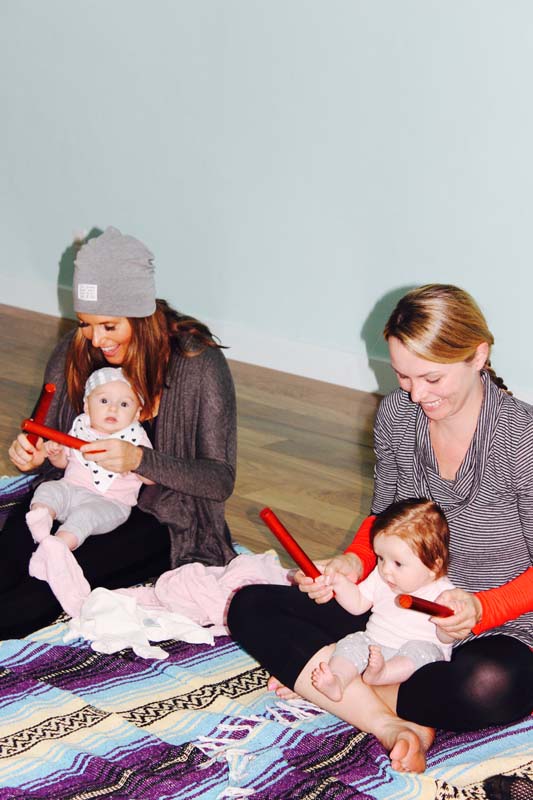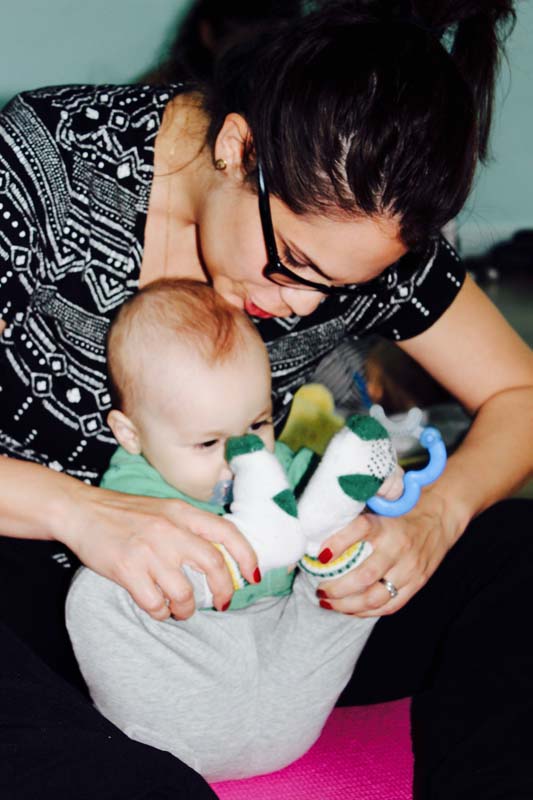 In addition to classes, workshops, and other parenting resources, happy baby offers weekly support groups for moms, including stay-at-home moms as well as working moms, as well as mindful parenting toddler groups. These groups are a nice way to socialize and get support from your community of moms, while receiving resources + support from our facilitators. A daddy group + other specialty groups are in the works too!
baby groups
Come be yourself, be honest about the trials and tribulations that parents often face, and get helpful support and feedback from the group and facilitators, in a safe, non-judgemental space. Our mama + baby support groups are led by experienced family therapists, or birth and infant specialists. We also offer a resource + social group, which is geared towards providing first-time mamas with a "survival toolbox" and an opportunity to learn, laugh, and cry together about all things motherhood. These groups are meant to facilitate building the community by allowing moms a space to not only meet one another, but begin to build relationships within the group. To help create this dynamic, all of our groups require registration for a full session, which is eight (8) weeks. If you would like additional information about, or would like to register for any of these groups, please email brandi@happybabyLA.com.
new mama resource + social group
(babies 0 - 6 months) - Mondays 2:15 - 3:45pm
This mama + me resource + social group is geared towards first-time mothers and their infants to share their experiences of transitioning into motherhood and discuss various issues applicable during those early months. This group is topic-driven and incorporates weekly guest speakers to present various topics that new mama's want to explore. Topics include breastfeeding, sleep, infant massage, babywearing, marriage after baby, and much more.
mindful mama postpartum support group
(babies 0 - 6 months) - Wednesdays 12:45 - 2:15pm
This mama and baby support group is a safe haven to nurture new moms as they enter the magical, mysterious and often crazy-making challenges of motherhood. This class will consciously celebrate the transitions new moms face while learning and sharing within a community. Along with making new friends, there will be plenty of time to share and ask questions as we explore topics such as: infant development and play, attachment parenting, breastfeeding, postpartum identity, natural remedies, self-care, and infant sleep. Mindfulness practices such as gratitude, affirmation, meditations, and fun baby yoga techniques will be gently explored. Resources for ongoing support, information and consultation will be available. Lactation appointments available before class.
** Your facilitator, Khefri Riley CD, CLEC, CPYT, is a Certified Lactation Education Counselor trained at UC San Diego, birth and postpartum doula, infant care specialist and Certified Prenatal Kundalini Yoga Instructor.
working mama + me support groups
(babies 0 - 6 mos.) | (babies 6 - 12 mos.)
The working mama + me support group is designed for new mama's who are/will be transitioning back to work outside the home. This is a safe space you can come and explore all the emotions, concerns, and curiosities motherhood brings, while meeting a group of working mothers who are sharing similar experiences. Discussion topics will range from those that are applicable (and of interest) to all new moms, as well as those that may be more unique to moms juggling baby and workplace. These groups meet on weekends.
mama + me support group - older infants
(babies 6 - 12 months) - Fridays 11:45 - 1:15pm
Our mama + me support group for 6 - 12 month olds is a process-oriented group where any topic is fair game! This is a safe space you can come and explore all the emotions, concerns, and curiosities motherhood brings. This is an ongoing group that requires registration of 8 weeks at a time.
**Your facilitator, Sasha Hawkes, is a family therapist and infant and child sleep consultant. In Sasha's parenting groups, she helps nurture and teach the transitions and challenges of parenthood and toddlerhood from a mindful, therapeutic perspective.
mama + me again support group
(babies 0 - 12 mos.) - thursdays, 12:45 - 2:15pm
Our mama + me again support group is a process oriented group designed for second (third, fourth…) -time moms to gather and discuss challenges specific to doing it all over again! Topics often include sibling rivalry, dethronement and jealousy issues, discipline for the older child, balancing the family, among other issues. We hope that repeat mamas will enjoy this opportunity to spend some quality time with their newest addition(s) and ask that alternative childcare arrangements be made for older siblings. This is an ongoing group that requires registration of 8 weeks at a time.
**Your facilitator, Sasha Hawkes, is a family therapist and infant and child sleep consultant. In Sasha's parenting groups, she helps nurture and teach the transitions and challenges of parenthood and toddlerhood from a mindful, therapeutic perspective.
daddy group ~ coming soon!