El Segundo is a strange little town. Nestled in the armpit of fancier towns right between a huge poop plant and LAX airport, one can be simultaneously assaulted with the roaring noise of a jet engine and the alarming waft of human waste as one strolls along tree-lined streets just a stone's throw from the Pacific Ocean. To the South of us is Manhattan Beach, the upscale enclave that boasts top-notch schools and multi-million dollar houses piled on top of each other, and to the North of us is Marina Del Rey, a coastal town bustling with high rises and young urbanites too busy to pick out their own furniture or to go house shopping, so they are stacked in luxury, furnished high rises that overlook a tiny but impressive marina.
In stark contrast with the upscale towns surrounding it, El Segundo is, at first glance, not much to look at. Most houses are ranch style, one level, with no land to speak of, and although the ocean is close by, a large hill and busy highway separates the town from seeming as truly seaside as it is. Paradoxically, however, the unassuming houses in El Segundo sell for over a million dollars, and only a few houses go on the market each year. The self-contained school system and proximity to the booming business world of Los Angeles and the ocean contribute to the exorbitant house prices, that and the fact that people, unequivocally, love it here. The weather is perfect, the parks are pristine, and the quaint Main Street is reminiscent of a Mid-Western town with the benefit of being on a coast.
Smack dab in the middle of Main Street in El Segundo is happy baby, a yoga and wellness studio for families that features a host of classes for kids, and support groups for strung-out Mamas. Two local Moms own the studio, and the space is wood-floored, cheery and compact. I wandered into happy baby six weeks after giving birth to my first child. I hadn't slept in weeks, my eyes were bleary, I was overweight, new to the town, friendless, and, frankly, desperate. My son was crying, as usual, and the girl at the front desk took pity on me and squeezed me into a post-partum support group that had already started meeting. The teacher was a gorgeous woman with a mane of curly blonde hair and a presence bigger than life. She welcomed me with a sweeping skirt, and from the first whiff of incense burning I knew I wouldn't fit into this group at all. I don't have a crunchy bone in my body, despite having grown up on a farm in Massachusetts with no electricity and running water. I was immediately taken back to the days when my Mom was on a health food kick and hung out with hippies. Memories of carob brownies, refried tofu beans and body odor came rushing back and I almost ran out of the studio, never to return.
The teacher sensed my unease and asked gently over the wails of my child, are you carrying him? She rubbed his feet with essential oils, burned sage around his little head and motioned to a class filled with women with various apparatuses strapped to their chests containing babies. No, I stammered, I put him in my 900-dollar stroller and walk him around like a normal person. The sage was making my eyes water. She promptly covered me with an intricate wrap I would never be able to replicate on my own, and dropped my crying son into the middle of it. He pressed his little head against my chest, smelling like oils and sage, with a peaceful look on his face and stopped crying instantly, maybe for the first time in six weeks. Happy Baby became my second home after that.
The class was comprised of twelve women in their late 20's/early 30's, for most of them this was their first child and they spent much of the first class I attended telling their birth stories. Horrific and bloody tales of prolonged labor, short cervixes, long cervixes, placental abruption, painful C-sections and garish recoveries were accompanied by tears and hugging, and the goddess-like teacher encouraged a frank and personal discussion amongst women who were essentially, strangers. One girl told us she was diagnosed with throat cancer while she was pregnant and she had to live with a growing tumor until a month after her son was born. A combination of post-partum hormones and the exhilaration of finding out someone else suffered even more than you left every eye in the room welling with tears with every story that was told.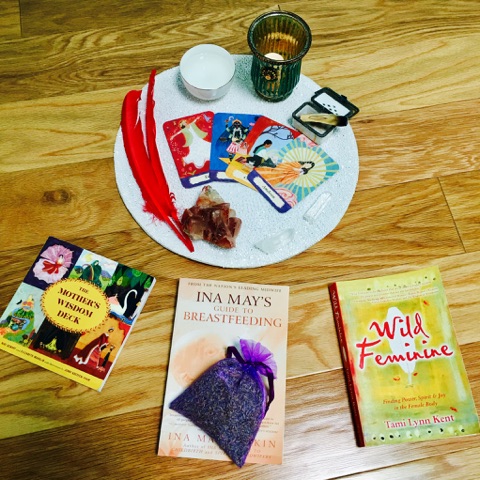 I was intimidated by these gruesome birth stories, and suddenly felt that my C-Section that resulted in a Multiple Sclerosis flare up so severe I couldn't hold my son when he was first born, and Bell's Palsy that rendered half of my face useless for weeks following the birth of my son was boring, but it was my turn to speak. I took a deep breath, inhaling a strong whiff of Patchouli oil and looked around the room at the circle of women eagerly awaiting the next tale of horror. I finally began to speak, glancing down at the peaceful child strapped to my chest. "Even though they cut him out of my stomach, my son is not actually related to me at all."
Thea de Sousa was an executive in Hollywood. She worked for Julia Roberts, Harold Ramis, Arnold Kopelson and Erwin Stoff. She has a book deal with Harper Collins for a novel based on her blog "D-Girl Diary," that can be found on Facebook, and she currently lives in El Segundo caring for her 17 month-old son.